Is there any other way to vacation while in Tuscany?
It is easy to take great photos when you start with a setting as beautiful as Villa Piaggia, a private vacation villa rental near San Gimignano.
What you really need is a soundtrack to accompany the English cut lawns, the sprinkle of red & white geranium blossoms, terracotta vases and majestic cypress and cedar trees that reach for the clear blue sky so you can appreciate the tranquility and silence that goes along with the view.
Veronica, the owner, and her family offer an inviting ambiance at their family home turned holiday villa rental for a group of up to 20 persons in Tuscany among the "Colline Pisane" wine hills, the small town of Montaione nearby and the classic beauty of Florence less than an hour away.
Book Direct with Villa Piaggia
Veronica and her eldest daughter met me at the door, ushering me inside the villa which emanated a personal and warm welcome. You could say my timing was perfect, as they pulled up a chair to the breakfast buffet of toasted bread, homemade jams and the sweet perfume of an espresso brewing in the kitchen next door. Though we were officially in May, there was a still a nip to the temps and the crackling fire in the casual dining area gave off just enough heat to make it comfortable.
I couldn't help but admire, even with all this history and beauty, that this is the way they roll at Villa Piaggia: genuine and down to earth.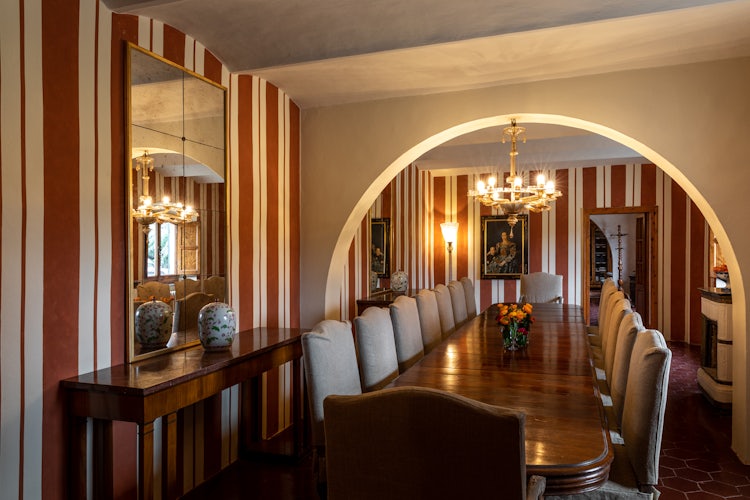 A Vacation Rental with a Tuscan Personality
The external view of Villa Piaggia may leave you a bit perplexed; especially if you are used to seeing a Tuscan villa move up and not spread out. This villa presents itself a bit differently. But then this wasn't just a villa, or just a farm — it once resembled more a small town than a place to live. As it grew, it developed horizontally and not vertically.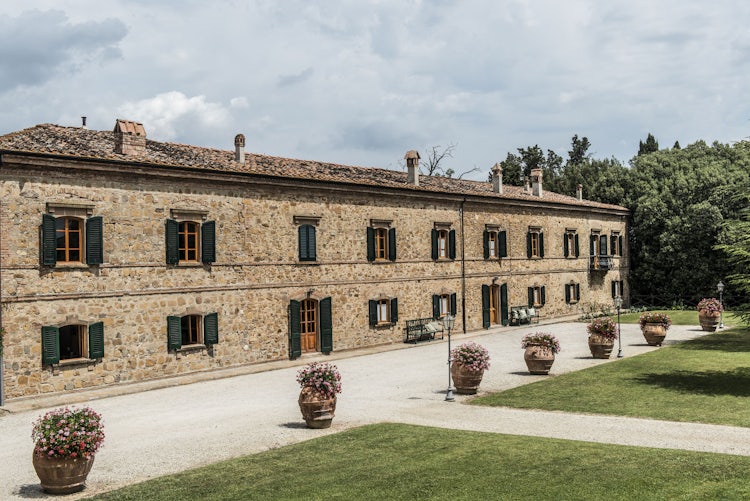 I was visiting the family as they enjoyed one last weekend in Villa Piaggia before the season started, so everything seemed a bit informal. But that's the way Veronica likes to portray life at the villa, easy going and accommodating. In fact, you can cook up a storm experimenting with new flavors or it is possible to arrange breakfast for the guests, or the possibility of a home cooked meal by Renata. Like I said, easy going and accommodating. Plus, how about adding fresh eggs, chickens, vegetables and fruits which all come from the home garden -- and, of course, wine too (but more about that down below!)
The Entire Estate at your Leisure
The formal dining room will accommodate the entire group where you'll often find a large vase of fresh-cut yellow Ginestra flowers gracing the sideboard. In fact, fresh flowers and greenery are one of Veronica's quirks - she is convinced that the house needs to feel alive, and keeping everything fresh inside is fundamental.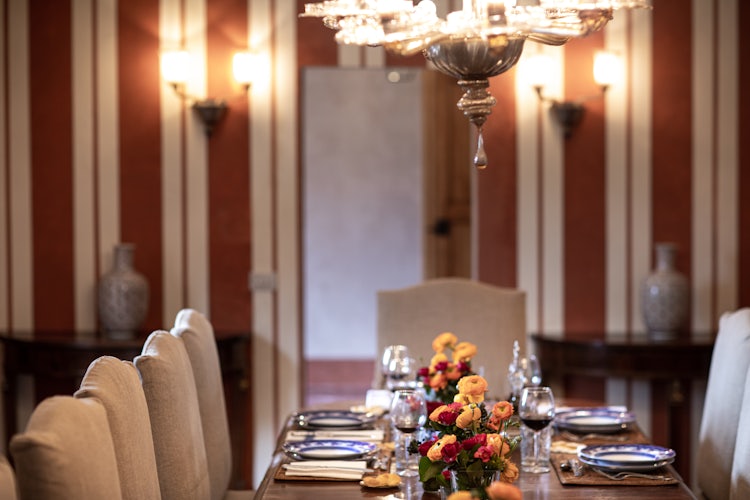 The ground floor also hosts the game room, with a full sized billiards table, a TV room and a large living room. The guest bathroom is located under the stairs, and reminded me a bit of Harry Potter's first address (under the stairs) except that this was most definitely larger than his room. The villa boasts several windows and ground level doors to the garden, promising lots of natural light to illuminate your holiday.
Except for one double bedroom with handicap accessibility, all of the sleeping arrangements with their en suite bathrooms and private AC, are located on the upper floor. There is a master bedroom with a king size bed, a sitting room with balcony and a private bathroom with shower. There are 2 rooms with twin beds, each with their own private bathroom with shower, and 4 double rooms with private bathroom with shower. Lastly, you will find a single room with French bed and a huge Carrara marble bathroom with shower.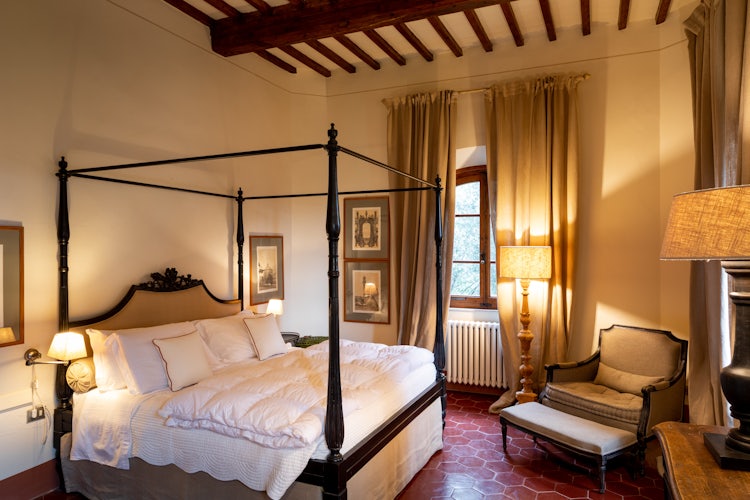 Villa Piaggia in a Glance:
Type: entire villa rental
Location: Montaione, 2.5 km
Distance: Florence, Pisa and Siena are all about 1 hour
Transport: a car is necessary
Sleeps: 20
Type of board: self-catering, with meals, cooking classes & welcome basket available upon request
Though you will have little use for it in today's world, the villa was actually an autonomous community, providing for the occupants' every need. There is a carpenter's shop, a blacksmith corner, a kennel for the farm's hunting dogs and - what Tuscan estate would be complete without - a "cantina" or wine cellar.
The villa and its annexes are totally surrounded by vineyards, however, the actual wine production takes place at another estate owned by the family, Villa Dianella. The guests at the villa are invited to participate in a free visit and wine tasting of the other estate, only a short distance and along the route to Florence. There is an on-site supply of wine and oil for you to purchase during your stay. Just a quick FYI: the white wine makes a delicious aperitivo. I speak from experience.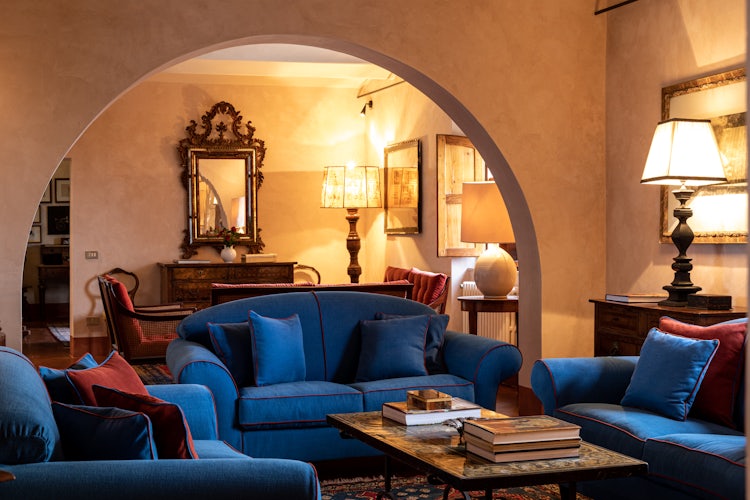 A Vacation Rental with a Tuscan Personality
When the family made the decision to open the doors of the villa to guests, they did so with the understanding that they were not going to destroy their memories and the architecture of the villa. They wanted to make it live again, like it did when Veronica was a child. Her dream was to see it as one happy home where friends and family gathered together for holidays, special events and glorious summers of tranquility and relaxation in what was once a fully functional Tuscan estate.
We aren't here to create perfection, we want to offer Tuscany with all its warmth and beauty just the way it is. A stay with us should be seen as an authentic experience.
The elegant yet casual decor of the villa feels comfortable, as if you were invited into her home for the weekend. You will find several little reminders of their prior life, a glass vase, a few paintings or even the photos of her father's hunting dogs. The on-site staff is there to help you keep things clean and organized. They are also available to lighten your load - let them take care of preparing lunch on the terrace or afternoon tea.
A Review of Villa Piaggia
We loved: the serenity and silence that permeates every aspect of villa life, including the qiuet dirt road that will take you to a nearby restaurant — by foot, after all it is only 1 km
Ideal for: Groups, either friends, family or a reunion. Especially those who want to live Tuscany, its hospitality, warmth and beauty
Gardens to Live By
It is a given fact, that anyone coming to Tuscany is going to appreciate the elegance and beauty of these accommodations, as well as the wide range of services that are available from cooking lessons, prepared meals, cleaning services and wine tastings. But it is also true that you come to Italy, and in particular this area of Tuscany, to enjoy the views, the tranquility and that wonderful Tuscan sunshine.
The yard around Villa Piaggia is divided into 4 distinct areas, guaranteeing a large group plenty of room to spread out, find a quiet corner or get loud and rowdy. There is the spectacular pool area overlooking the vineyards. Here, you will find plenty of loungers and umbrellas and a freshwater outdoor shower; close by, there are changing rooms and a bathroom.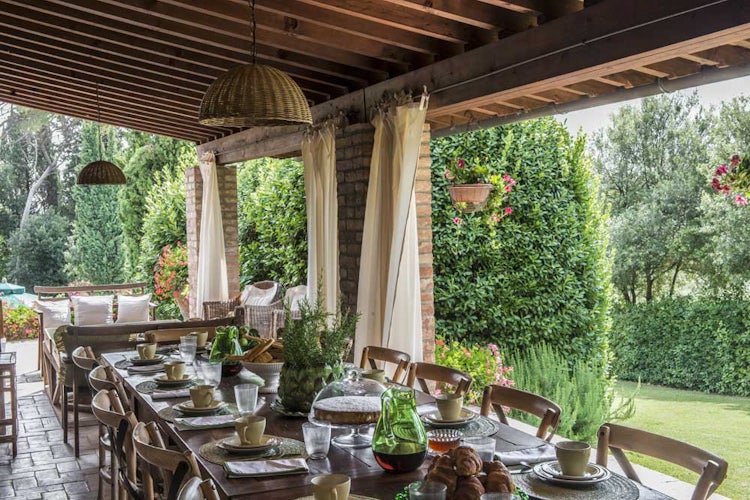 Next to the pool, creatively making use of the now abandoned kennel, there is a fabulous outdoor patio and BBQ. Ideally this is where you will want to be taking your meals, enjoying the evenings fresh air, the great scenic views and the closeness of the pool. There is a large table, which can accommodate the entire group and a cosy little sitting area, perfect for pre-dinner drinks.
Below the villa is a shady garden, which is part of the original landscape, with trees dating back several decades. When the afternoon is just too sunny to sit by the pool, this is where you will want to retire with a good book or a blanket for a bit of a nap.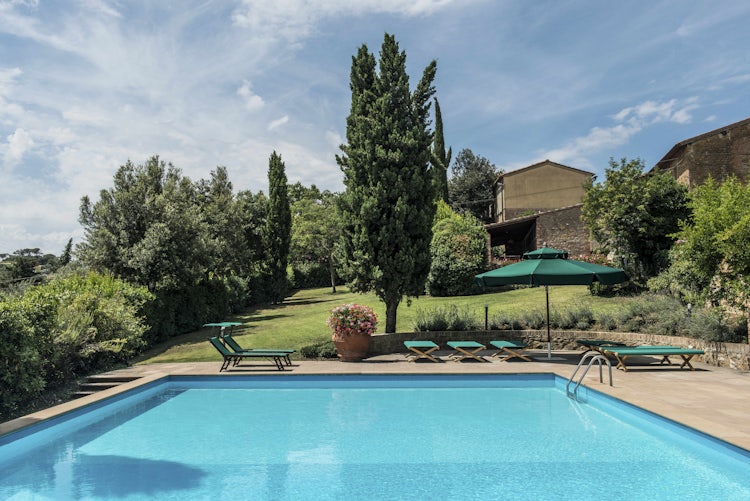 Directly in front of the villa, in a classic English lawn, you will find a huge grassy area where you can let the kids go wild, play a game of volleyball or simply sit and take in the amazing scenery. This, of course, doesn't include all the wonderful trails you can follow to explore the vineyards, the hills and even the small restaurant just down the private road.
Everything is within Reach
Not only does Veronica, her team of professionals and the villa work to give you the essence of Tuscany while on holiday, you also have the added plus of finding yourself (almost literally) in the heart of the region. Florence, Pisa and Siena are all equal distance from the villa, and in approximately one hour you can be climbing the tower of Pisa, sitting under the Torre di Mangia in Siena or listening to the bells toll in Florence.
I love that everything is so close, beautiful cities like San Gimignano, Certaldo and San Miniato. And also nature: the thermal waters at Gambassi Terme, walking via Francigena, hiking the nature reserve of Castelvecchio or the unique park of San Vivaldo.
You really wouldn't need to go far to enjoy a bit of hiking, however, Veronica recommends the Natural Reserve of Castelvecchio is worth a visit. It extends for about 700 hectares between Gambassi Terme, San Gimignano and Volterra. Another hidden gem, close to the villa is San Vivaldo, a park filled with chapels and churches, some dating back to the 1500's, reproducing the topography of the holy places of Jerusalem, hence the nickname "The Jerusalem of Tuscany".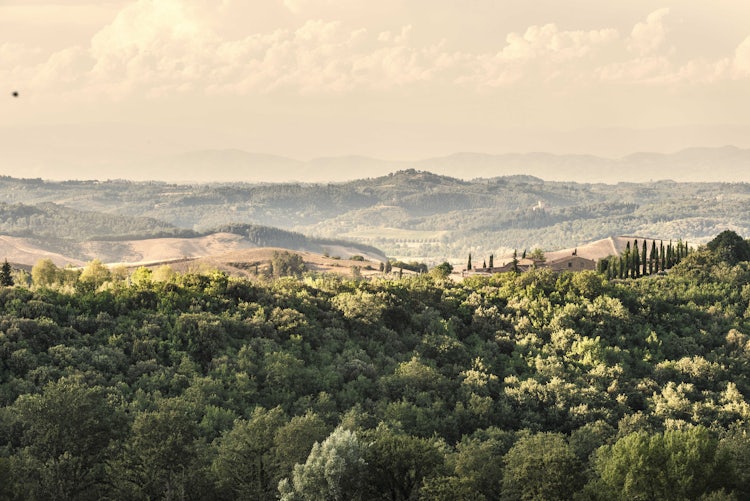 The casual, cosy setting at Villa Piaggia invites you to settle down and really live Tuscany, not just the classical beauty and landscapes but the people, the culture and the life. Small and medium size groups are going to find the perfect setting for reunions, celebrations and get togethers at this stupendous Tuscan villa rental, and you will find that Veronica has surrounded herself with efficient and attentive staff to assist you during your holidays. Don't wait, plan your holiday at Villa Piaggia in Tuscany now!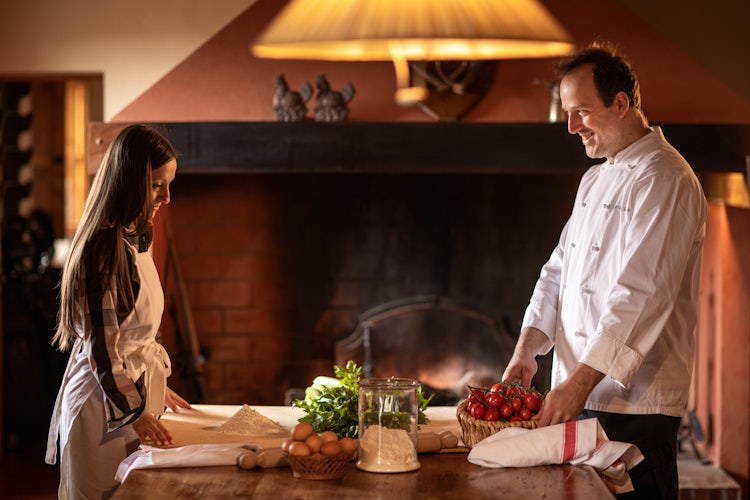 This is a Sponsored Article but reflects the honest opinion and experience of the author. More details »