Located on the Outskirts of Florence
Here You Will Always Find a Smile & a Good Meal
No matter what the weather may be outside, as soon as you walk into the warmly lit reception area of Casa Palmira, with its sharp orange accents and inviting decor, you will forget all about it.
My visit was in the beginning of April and the cosy fire, sweet perfume of honey and spice combined with the warm colors were just what I needed to warm me up after the bracing walk from the car. The sunny and welcoming smile that Assunta, one of the owners, flashed me was exactly what I wanted to see as I walked in from the gray skies.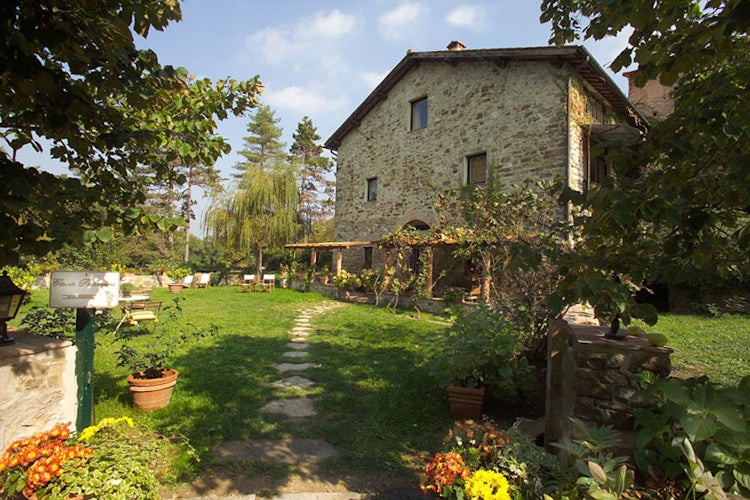 Her partner, Stefano, was still out shopping the local markets with his guests/cooking students. His experience working at the San Ambrogio market in Florence, a mere 20 minutes away, makes him highly qualified to banter his way around the fresh fruit, veggies and cheese pointing out only the freshest and tastiest morsels. I could tell right away I was walking into more than just a visit to Mugello, I was being lured into enjoying good food, new friends and trying something different.
Happiness Starts in The Tuscan Kitchen
Assunta and I spent a few minutes getting to know each other but, it really didn't take much more than finding our common link: traditional Tuscan dishes. I immediately started to quiz her on the menu for the cooking lesson, since that was one of the main reasons I came to visit - and which she had generously invited to me to stay and taste. There were a few ideas whirling in her head but,"truth be told, until I see what Stefano brings home, I really don't know all the details....they did ask for a risotto...." and I could see I had lost her for a few minutes as she mentally prepared the list of ingredients for this dish....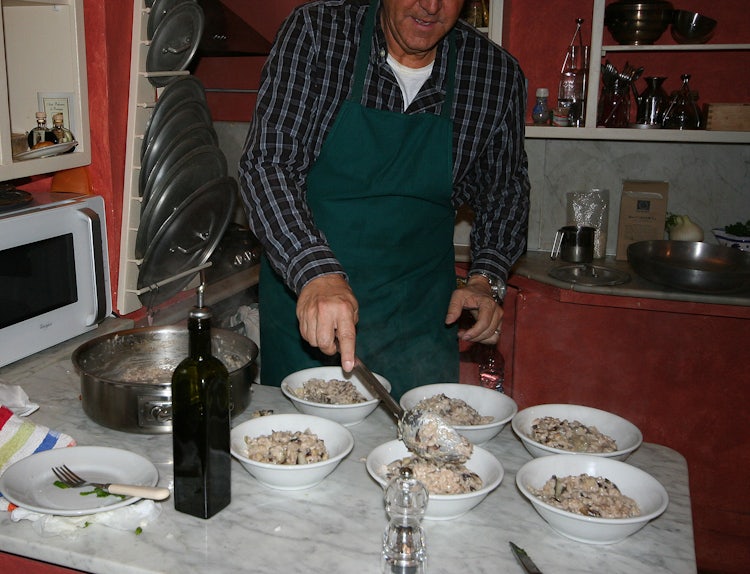 I wasn't sure if I should even interrupt her. But then she turned and flashed me another one of her fantastic smiles. We were back on track. "How about we start off with you showing me around?" and off we went.
A Review of Casa Palmira
We loved: the warm and colorful decor which mixes the new & unusual with traditional Tuscan
Ideal for: from couples to small families or groups, especially if they want to use public transport or walk to dinner
The large common area where indoor breakfasts are served, afternoon happy hour takes place and guests are invited to spend time relaxing is bathed in soft, natural light and toasty salmon colored walls. The adjacent kitchen which opens into this area with its marble covered counters invites you to snoop around and maybe stir the sauce on the stove or enjoy the perfume of a home baked cake emerging from the oven. I loved the quirky mix of classical styled furniture with fun little accents. It is a perfect representation of both the owners; an obvious love for tradition but a playful and fun filled attitude about their home and business.
Tradition Tuscan Architecture with Flair
We left the main common room and climbed a winding staircase for just a bit before stopping for the first room. As we walked in, I was a little perplexed by the glass walls that greeted us. However, I was immediately impressed with double entrance way which created a spacious feel by letting in extra light while acting as a barrier against noise from the common areas below. I loved the way that it was ensuring privacy and comfort while not taking away one little bit from the natural beauty of the room and the frescoed ceiling.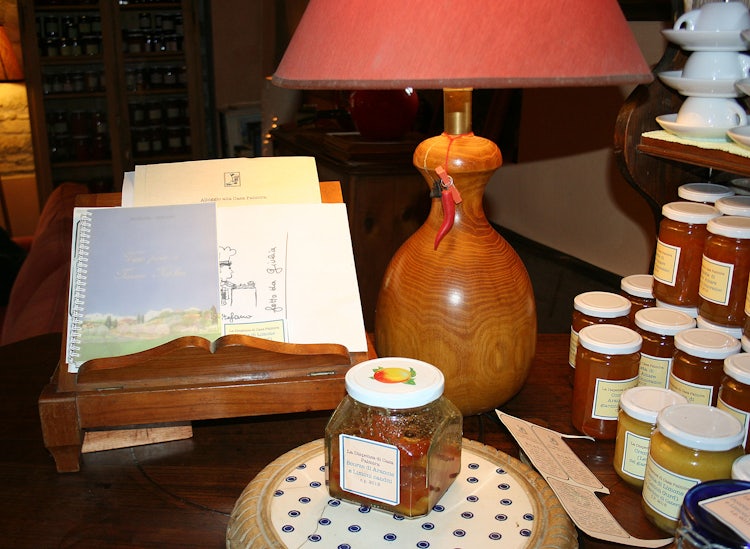 Highlights of my Visit:
Highlight: The warm, friendly welcome that I received. I can just imagine after several hours of travelling how a guest will just love to sink into one of the many comfortable chairs with something yummy to munch on while recharging their batteries before planning the next adventure
Surprise: The use of color throughout the B&B. They used colors that are traditional to the typical Tuscan architecture but combined them with modern elements to give the Casa Palmira a truly distinct personality, one which will most certainly appeal.
Favorite: how easy it is enjoy the Tuscan countryside from this base without a car. The nearness of the bus stop, the diversity of nearby restaurants and the availability of the owners makes getting around easy and fast.
Casa Palmira in a Glance:
Type: 6 rooms with breakfast and 1 self catering apartment
Location: Fiesole - 10 km (11 min)
Distance: Florence (40 min) & Borgo San Lorenzo (20 min)
Transport: a car is not necessary
Sleeps: 17
Type of board: breakfast, cooking lessons & meals upon request
I followed Assunta up the stairs which divided the common area from the bedrooms and entered into a room tinted in shades of buttermilk with a high ceiling, sun lights and lots of fresh green plants. Normally a Tuscan barn is a rather dark environment since there are no natural windows and the restoration procedures won't let you open up the grates used for ventilation. However, Casa Palmira is filled with natural light due to the creative use of the multi layers and an intricate floorplan.
By now, I was used to hearing Assunta tell me Stefano made this and Stefano made that - so it was absolutely no surprise when we walked into the second bedroom and I asked did Stefano make this bed? But of course. A beautiful sleigh bed in a light colored wood fills the room which overlooks the garden and pool. This is exactly where I would want to wake up on holiday. It is the individual accents which truly complete each and every room giving them a unique personality and a feel of being "home."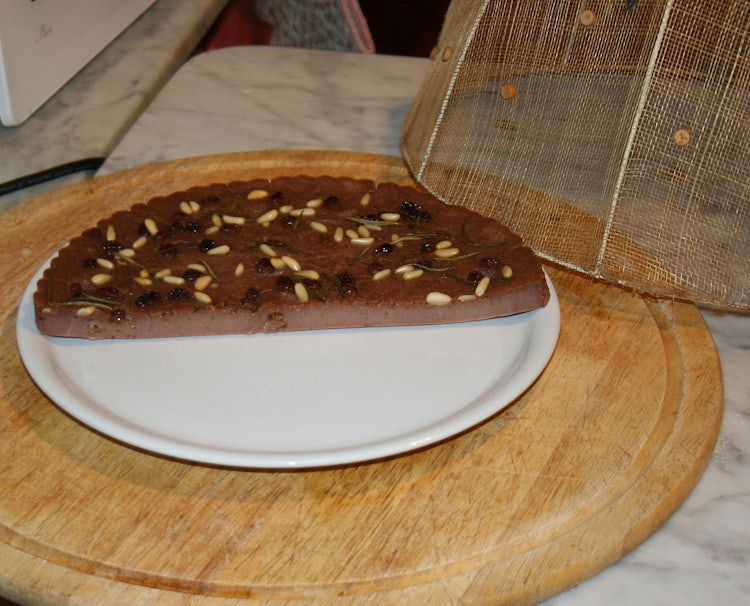 We had a look into all 6 of the rooms, each with its own inviting spaces – and honestly, I don't know if I could pick one out over the others. However, when she walked me through the two bedroom, two bathroom apartment with a quaint little kitchen area and garden... I fell in love; I could spend a week here and never want to wander.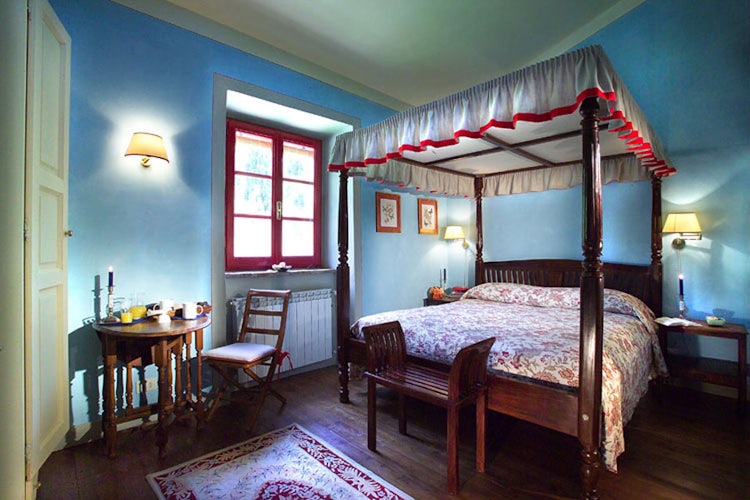 More than Just Good Looks
As if the gurgling stream, the delicious garden area, the refreshing pool were not enough to tempt me...
While we waited for the guests to re-enter with Stefano, I asked about the restaurants nearby.
"If our guests are interested in eating with us or indulging in a cooking lesson then there is no need to check out one of the two delicious restaurants within easy walking distance of Casa Palmira"
Both specialize in local & traditional foods. And just checking out the facts, I asked about the bus stop which is less than 20 meters from the driveway of the B&B. Assunta assured me that the trip is less than 40 minutes to the city center of Florence. The buses run quite frequently – and though the last bus is around 7 PM from Florence, she told me in tone of conspiracy, that anyone who wants to experience Florence at night can catch a late bus to Fiesole, and she will hop out and bring them home... since it is less than 10-15 minutes from their house.

Sound like fun? Then don't wait and book your stay now!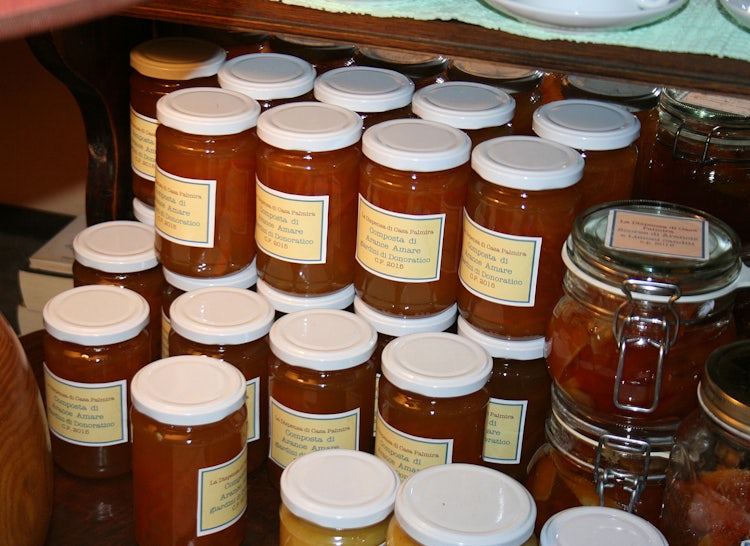 This is a Sponsored Article but reflects the honest opinion and experience of the author. More details »