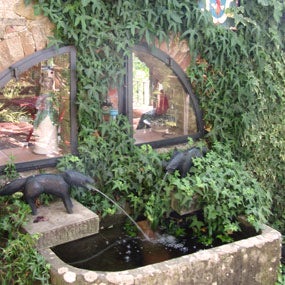 Tucked in the hills located to the northeast of Florence is a Tuscan farmhouse, an enchanting view and a whole lot of silence at the B&B Le Due Volpi in Mugello near Vicchio. Only a short distance from the birthplace of Giotto, Cinzia and Aldo, the owners of this B&B, offer a secluded corner to truly enjoy not only the scenic landscape of Tuscany but also the unmistakable flavour of fresh veggies and fruit, homemade cakes and sweets for breakfast, as well as a tempting display of savoury sides that are particular to the area from local suppliers.
The owners, Cinzia and Aldo, also share their interest in vintage items and artistic pieces by highlighting the special items throughout the B&B - ask Aldo about his bicycle racing pieces! Especially charming were the two stylized foxes (also known as "le due volpi") who create a soothing background music on the tree covered panoramic terrace. I found the little murals and hand painted furnishings throughout the B&B to be exceptionally delightful; creating miniature worlds, imaginary windows which let the wilderness inside for just a moment in time.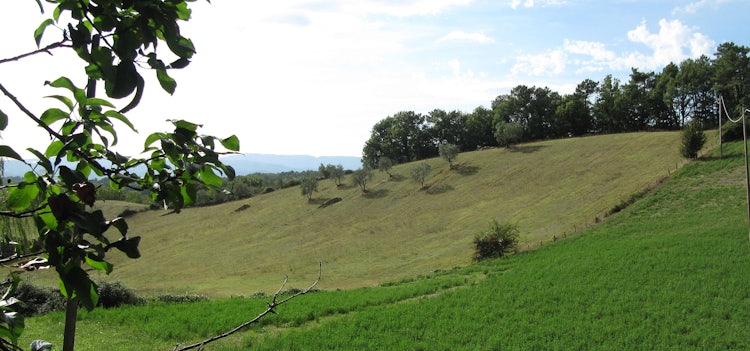 The silence and the fresh country air embrace you as soon as you arrive; following the twists and turns on the country road, you can feel the tension of travelling begin to ease away as you mellow into the Mugello scenery. The walk up to the house is up a shady driveway, with their vegetable garden and grapes on the one side and tall trees on the other side. Planted on the side of a hillside, you feel as if you have an 360° panorama of the hills and mountains that make up the northern border of Tuscany, called Mugello.
Why stay here?
We loved: the country-style decor which is comfortable, coordinated & welcoming
Ideal for: couples, small families or even a larger group who want the entire villa for themselves.
Prepare your Senses to be Teased
I opted to sit inside Cinzia's home instead of the sunny terrace. Her living room is decorated with lots of intriguing objects and gifts from past guests. One of the more curious guests items is an antique "high-wheel bike" in iron with wheels in wood from the 1860's, an authentic relic which they had found in a barn in Provence. Then there was the map maker who left a personalized trail book complete with photos and casual observations of the nearby paths. The vast collection is a testimonial of the many persons who have passed through their doors and have left a piece of themselves behind.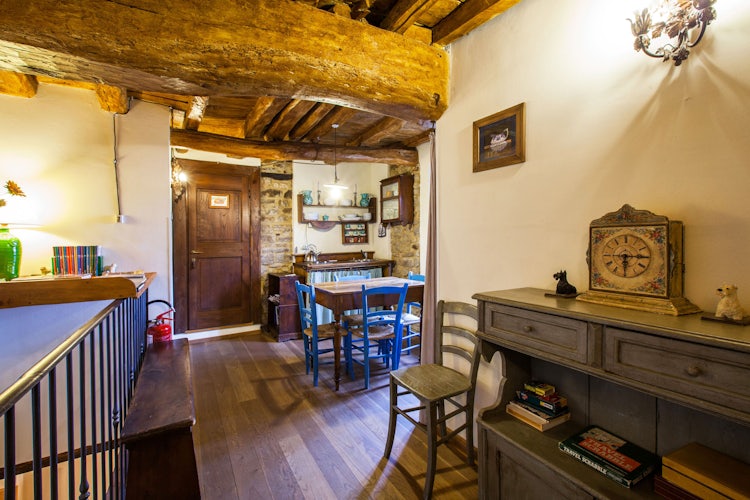 Highlights of our visit:
Highlight: the aroma of fresh tomato sauce hanging in the air, and the lingering scent of homemade apricot jam, aromas that anyone staying at Le Due Volpi will not only enjoy smelling but also tasting!
Surprise: the furnished kitchen available to guests upon request, in the annex close to the main villa with panoramic views
Favorite: the quaint murals that follow you from room to room, bringing the green scenery into the rooms
Following Your Tuscan Bliss
Cinzia and Aldo found this Tuscan styled farmhouse which was in need of a loving hand and a bit of architectural vision; with this, they created the perfect little nook for romantic getaways, country-styled vacations and relaxing retreats. Opening the rooms up to create a welcoming environment with natural light, inviting spaces, a soft and easy decor with a distinctly country slant. They have fully embraced idea of Tuscan hospitality and it is centered around a peaceful, easy-going atmosphere.
Their private quarters are attached to the B&B, yet they have created a setup where the privacy of the guests is well protected behind a curtain of green flora. Even with the intense heat of the summer, the garden area around the B&B was crisp cool and inviting... as was the pool area where the guests can lounge among the various fruit trees and abundant green borders.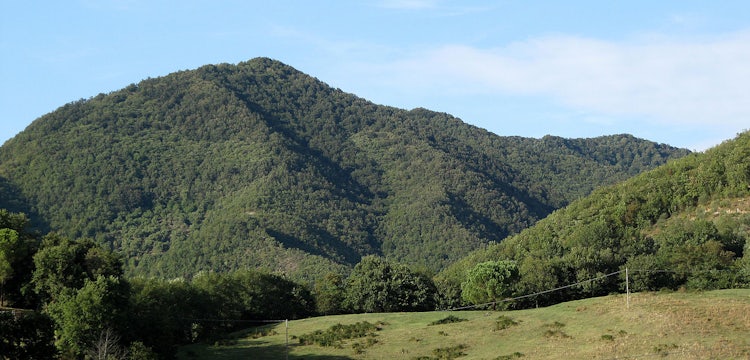 B&B Le Due Volpi at a Glance:
Type: Bed and Breakfast or an independent vacation villa
Location: Vicchio, 1 hour and 15 min from Florence
Distance: Siena (2 hours) or Greve in Chianti (90 minutes)
Transport: a car is necessary
Apartments: 4 rooms or 1 villa for 10 persons total
Sleeps: 10
Type of board: breakfast and, upon request, meals can be provided
During the less busy season, Cinzia can be persuaded to cook a delicious meal using natural ingredients from the garden and her international flair. I have it on good authority that your hosts' skills in the kitchen features a robust BBQ of "bistecca fiorentina, rosticciana and salsiccia toscana" (translated that means the typical Florentine steak, pork ribs and the tantalizingly spicy Tuscan sausages). Needless to say, I made sure my name went on the next dinner invite ;-).
Though Cinzia has a wide repertoire in the kitchen including many Italian specialities, she enjoys baking sweets. She tempted me with recipes of banana bread, nut bread, American style muffins and Scottish pancakes! These are small and thick and she serves them with a selection of her homemade jams (apricot and fig are on the top of the list), a local honey, a syrup of agave and, for those who just can't do without, she does have some maple syrup.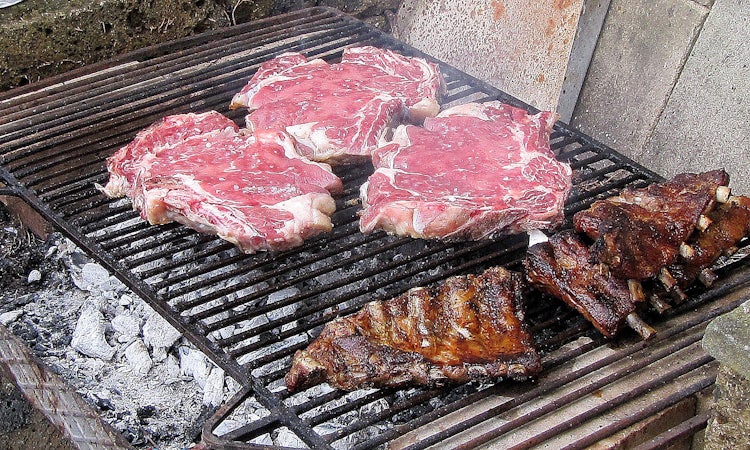 Not Just a B&B
Breakfast is served in a separate structure located in front of the B&B, where the guests will find a full kitchen. Cinzia and Aldo encourage their guests, especially in high season, to make their own evening meals, taking full advantage of the cozy atmosphere and the exceptional views. Cinzia explained that so many times, guests come and find that once they have come home from a day of traveling, exploring and hiking they really just want to stay at home, making their own meals and enjoying the peace and quiet of the Mugello hills.
In the high season, more likely than not, they rent all four rooms together to the same group as if it was a private villa with full use of the kitchen, garden and pool. She assured me, "I am still here." Which means, she is still around to provide a fortifying breakfast upon request, answer questions, help plan itineraries and find the best vineyards, maybe even offer a taste of Aldo's garden produce but with the assurance that guests are free to live in the house as if it were their own.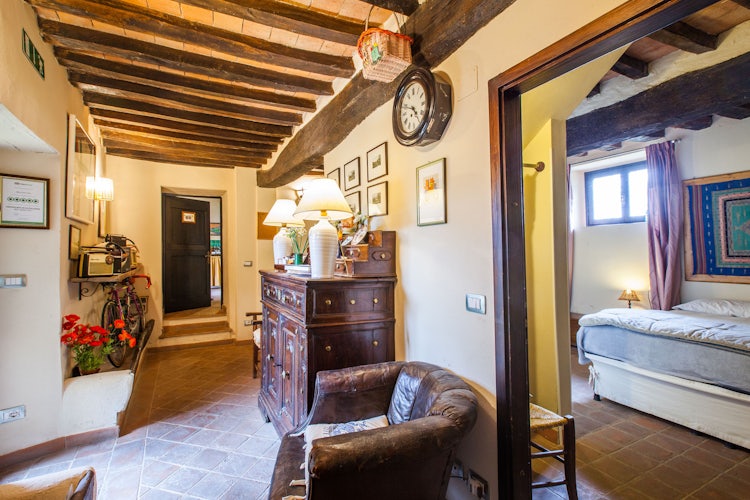 I was lucky to catch her on a day when she could show me the entire bed and breakfast with the Mugello panorama beckoning from every window. There are four bedrooms, each with a truly distinct personality. On the ground floor is a double bedroom with a private terrace and kitchenette.
It has a delightful headboard and made me think of a romantic weekend escape. The ground floor, showcases their passion for collecting vintage objects; he has turned his attention to buying and trading in vintage bikes made in stainless steel. In addition, the ground floor also hosts another bedroom with two single beds, ideal for kids.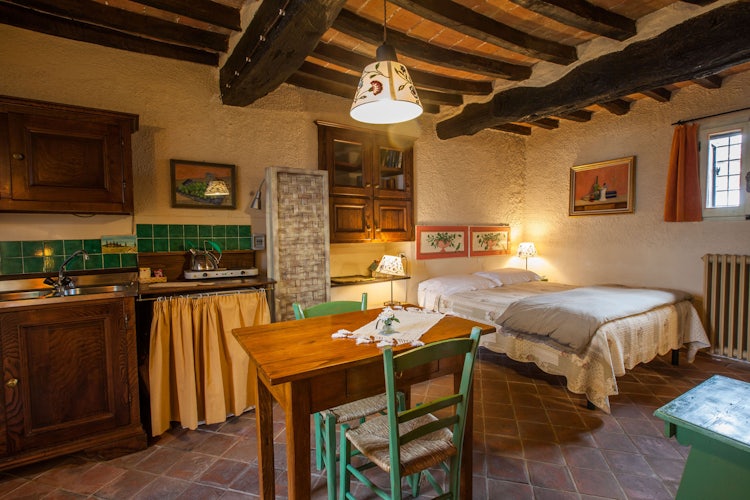 Inside and Outside, Designed for Leisure
Upstairs, there is a small kitchen which is just the right size for making a quick snack, a very light meal or a cup of tea in the afternoon. This floor accommodates a large double bedroom with panoramic views on both sides of the house and the extra plus of a full size single bed. The room is done in natural wood, soft ivory colors and has a delightful mural of little birds flitting from place to place.
The last room on the top floor, not only does it have its own AC unit like the other rooms but, this year a ceiling fan was added, which is just enough to cool the room off for those who would still prefer to have the windows open and the clean country air filter through. Made for a family or friends traveling together, this room has a double bed plus two single beds.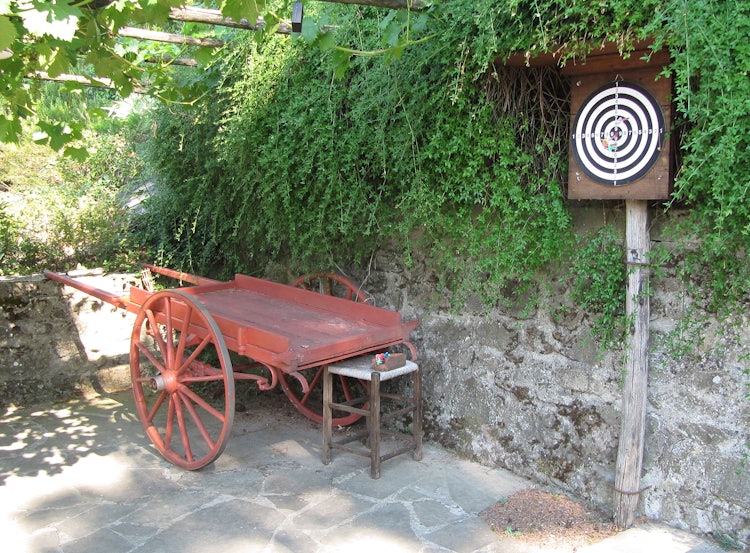 If you prefer to stay inside your room in front of the window with the hillsides displayed or hiking the numerous paths that run up and down, back and forth then a stay at B&B Le Due Volpi will offer you the perfect setting. And if discovering the delights of small Tuscan towns, the historic city center of Florence or just lazing by the pool soaking in the sun, the silence and the colors of the garden are more your style, Cinzia and Aldo have just what you are looking for.
Reserve now at B&B Le Due Volpi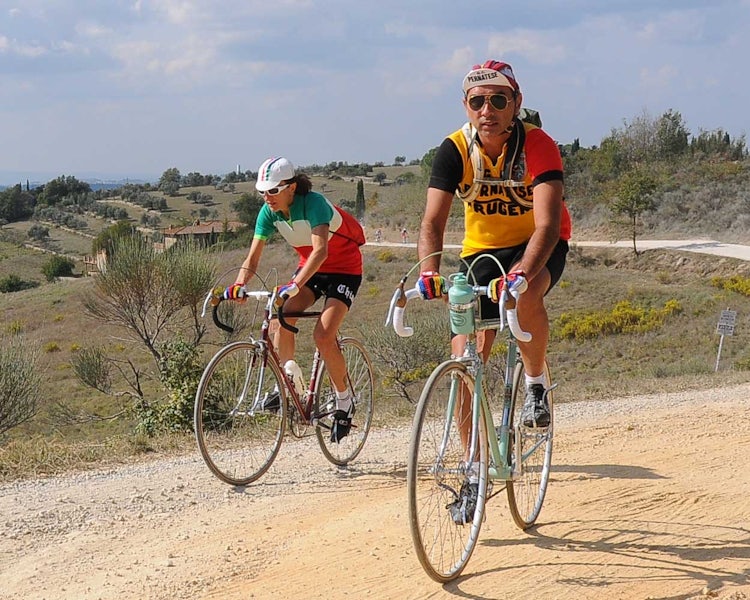 This is a Sponsored Article but reflects the honest opinion and experience of the author. More details »